Mats Jonasson Crystal - POPPY bowl small Ø 140 mm - 56098
SKU:
MJ56098
Brand:

Unit:
piece
Qty:
In Stock
MJ56098 Mats Jonasson Crystal - TABLEWARE - small POPPY bowl, handmade tableware, Ø = 140 mm / 5 ½''
H = 50 mm / 2''
Colour: red / black
Video
MJ56098 Mats Jonasson Crystal - small POPPY crystal bowl Ø = 140 mm / 4 ½ '' This striking bowls popular design, based on crimson poppy flower blends elegance and function. Use it as an elegant serving bowl or display it proudly on a bookshelf, desk or coffee table. Sure to be an impressive and memorable gift, you might want to give this to someone very special. The bowl has been made using pressed glass technique, then spray - painted in a deep red on the reverse, creating a wonderful contrast to the clear base with darkened black outlines. Handmade, spray-painted with organic paint.
Colour: red / black
H = 50 mm / 2 ''
| | |
| --- | --- |
| Manufacturer: | Rootsi / Sweden |
| Material: | Kristall, orgaaniline värv / Crystal, organic paint |
| Height: | 5 cm |
| Diameter: | 14 cm |
| Weight: | 0.25 kg |
| Use: | Lauanõud Dekoratsioon / Tableware Decoration |
| Care: | Pese käsitsi õrna nõudepesuvahendiga / Wash by hand with gentle dishwashing liquid |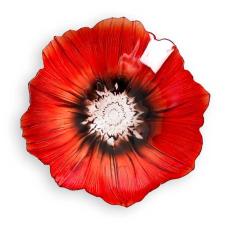 MJ56100 Mats Jonasson Crystal - large POPPY bowl, handmade tableware, Ø = 250 mm / 10''
H = 75 mm / 3 ''
Colour: red / black
SKU:
MJ56100 ,
Qty:
In Stock
69,00 €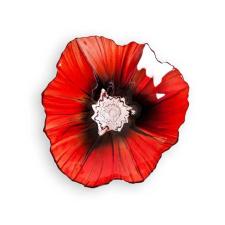 MJ56099 Mats Jonasson Crystal - medium POPPY bowl, handmade tableware, Ø = 190 mm / 7 ½''
H = 60 mm / 2 ½''
Colour: red / black
SKU:
MJ56099 ,
Qty:
In Stock
44,00 €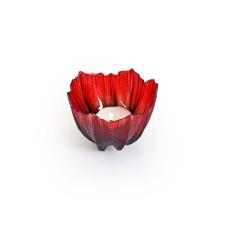 MJ56097 Mats Jonasson Crystal - POPPY tealight candleholder or mini bowl, handmade tableware, Ø = 90 mm / 3 ½''
H = 60 mm / 2 ½ ''
Colour: red / black
SKU:
MJ56097 ,
Qty:
In Stock
23,00 €