The Story of Glass
Throughout the ages, glass has always been a rare and highly prized commodity. It has been considered as precious as the finest jewels and rarer than gold.
It is one of a very few substances that has no crystalline structure and although it appears solid, it is in fact a substance that has passed from a molten to a rigid state without structural change. It is a 'cooled liquid'.

The history of glass is almost as old as the history of man. Chipped tools, made from volcanic glass, have been found dating back 78,000 years.

According to legend, man first made glass about 2000 BC. Phoenician sailors set up a camp on the sandy beach of a river in Syria and built a fireplace to support the cooking pots for their evening meal, using pieces of sodium carbonate found in their cargo from Egypt. The next morning they discovered that the sodium had fused with the sand and formed clumps of a clear substance - glass.

For almost 4,000 years, glass has been made by melting sand at a temperature of approximately 1,400 degrees Celsius, using a flux such as soda to help it melt.

The introduction of the glassblower's pipe, shortly before the birth of Christ, was a revolutionary event in the history of glass making, and the tools and techniques used to form the molten glass have changed very little over the centuries.

For the last 400 years crystal glass contained lead, which gives it a brilliant and reflective quality. Today crystal glass can be made with all the same qualities of lead crystal glass, but lead is replaced with another substance such as a metallic oxide. This is due to potential health risks, that presence of lead in drink glassware may cause, as it can leach into the food and beverages contained.
Målerås Glassworks uses an exclusive crystal recipe, which picks up reflected light and giving the glass that extra clarity and beauty. IT IS LEAD FREE.
How many steps crystal sculpture must go through to become a masterpiece on the shelf in our store?
1. A work of an art crystal sculpture, which is cast, starts life in the designer's sketchbook
2. Then a model is made as a basis for the finished mould design, which is improved and polished at all stages and in every detail to reach perfection for casting. Before the hot crystal is poured into the finished cast, the mould has been heated to reduce temperature difference and thermal shock. All casting is done by hand and demands a high level of competence, unique skills and knowledge about temperature and the behaviour of syrup-like glass mass.

Imagine, that not only man can cast the lava hot glass, but ''fearless and brave'' women can do that job too...
Grinding wheels, glass drills, diamond saws and a blasting room...Does that sound brave enough?
3. After annealing crystal is polished in different stages to reach the effect that designer targets to achieve for high gloss and trancparency.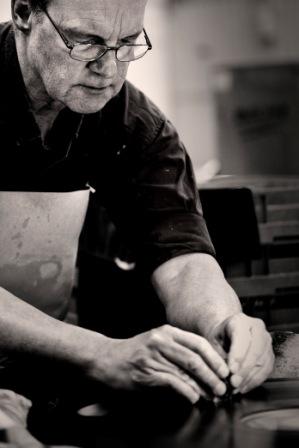 4. There are a number of methods that can be used to finish the art crystal. Sandblasting – a technique where corundum sand is shot at high pressure to the glass to create a matt finish. The finer the sand the smoother the final surface. The areas protected by tape, film or stencils remain shiny. The glass object is placed in sandblasting cabinet with air extractors and the blaster protects against dust by using an air mask. After sandblasting the engraver enchances important details with small special instruments, all by hand, and it reminds a work of a surgeon. Sometimes the sculpture is sandblasted once again.

5. Glass painting is a form of art. Every crystal glass peace is painted by hand, by skilled painter with special bio ink and each painter make it different to realise the designer's intentions with the brushstrokes, so that there is a unique handwriting style in every piece of crystal glass.

6. Once a piece is painted, it needs to go into a furnace to be burnt in order to fix the paint. Unfixed colour would not withstand cleaning.
7. The sculpture is inspected. All in all the detailed to the top sculpture passes 8 craftsmen and 12 workstations before the art crystal get to be signed by the Designer. Only now art crystal is ready to be packed into safe for transportation, exclusive box, and go to shops around the world.
Substandard glass is destroyed. The rejected glass object is recycled by melting it down again. Those items that are judged to have only minor flaws may be sold at the outlet that can be found in connection with the glassworks.
Materials
To combine the metal with crystal in a sculpture is one of the latest discoveries and result of experiments with materials.
Steel is used as a metal. It is heated to a certain colour, that it would look like bronze, but it's important not to overdo it, otherwise it would turn black.

The wooden base is giving the sculpture feeling and look of earthiness and is made from an oak tree.
Conscious of our environmental responsibilities, sculptures are hand-painted using organic colours.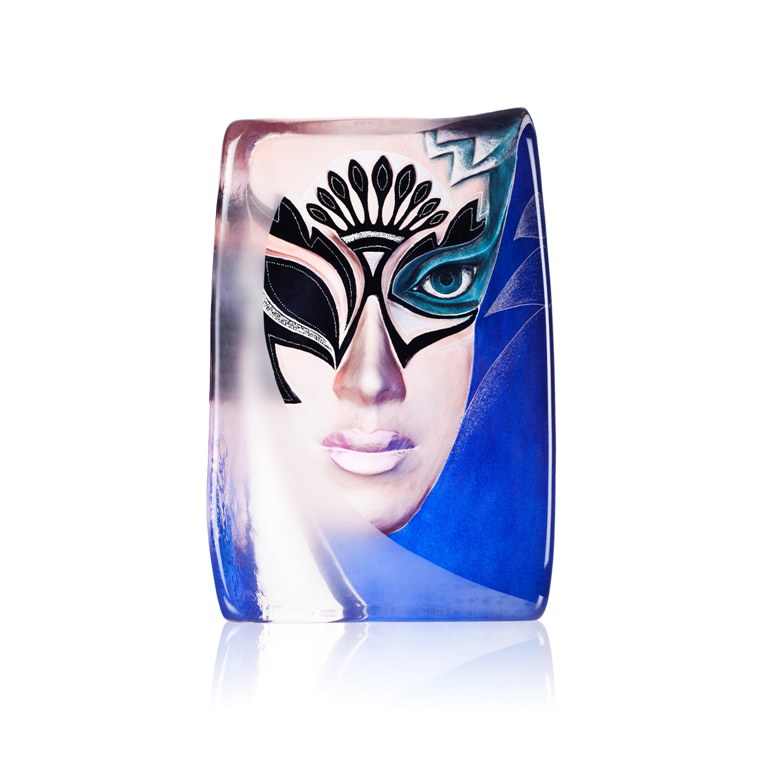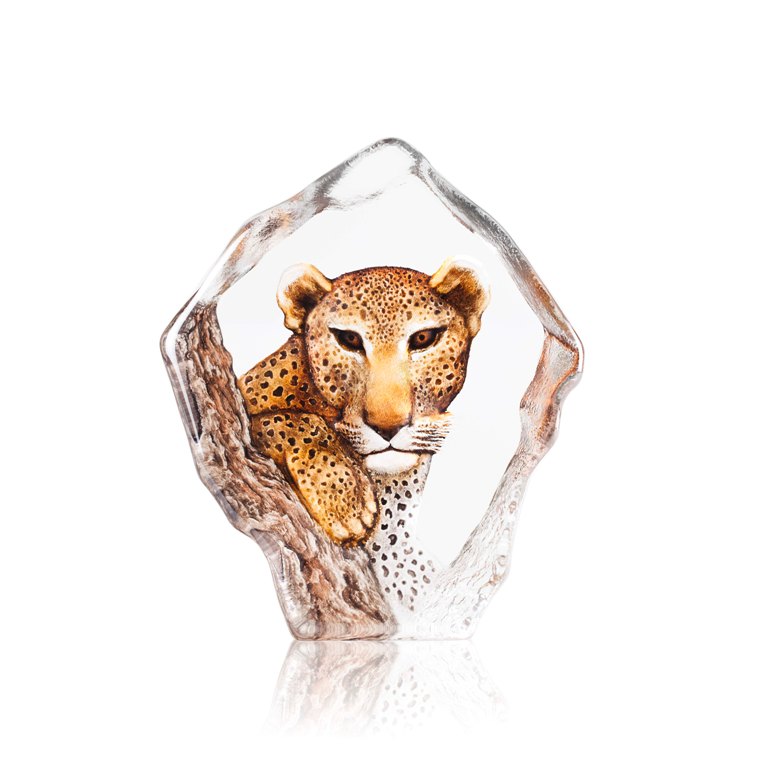 Number of Limited Edition Sculptures
Mats Jonasson and his team of a talented designers produce LIMITED EDITION Crystal art sculptures. Some of Limited Editions come only in quantity of 3 pieces, 9 pieces. Smaller Limited Edition sculptures come in quantity of 49 pieces, 99 pieces or 299 pieces.
Each Limited Edition sculpture is signed and numbered on the bottom or side of art design, which increases and guarantees crystal sculpture value and authensity, as behind every success comes lot of copying.
Mouth blown drinkware
In the melting pot the hot glass glitters and sparks and lights up the whole factory with a warm red glow. The glass blower gathers the melted glass on his pipe and, in the smoke from the wet wooden forms, blows the glass to perfection.
All drinkware are handmade. The detailed tableware passes 8 craftsmen and 12 workstations before drinking glass is ready to be placed in gift box.
To become a master glassblower demands talent, education and many years of experience. Only then, the professional blower can recreate the designer's intentions and message to the world. In the Kingdom of Glass, glass-blowing is often a family affair, the skills being passed on through the generations and it is this continuity that guarantees that mouth blown glass objects continue to find new owners around the world. (Image record: Målerås Glasworks. Staffan Jonasson is blowing a glass)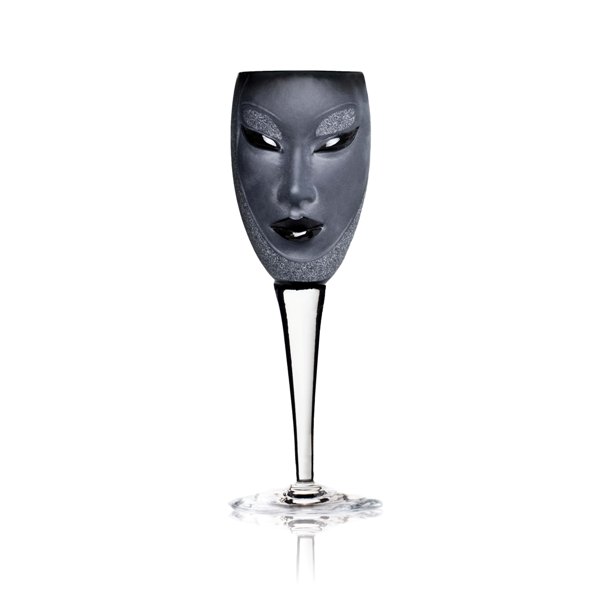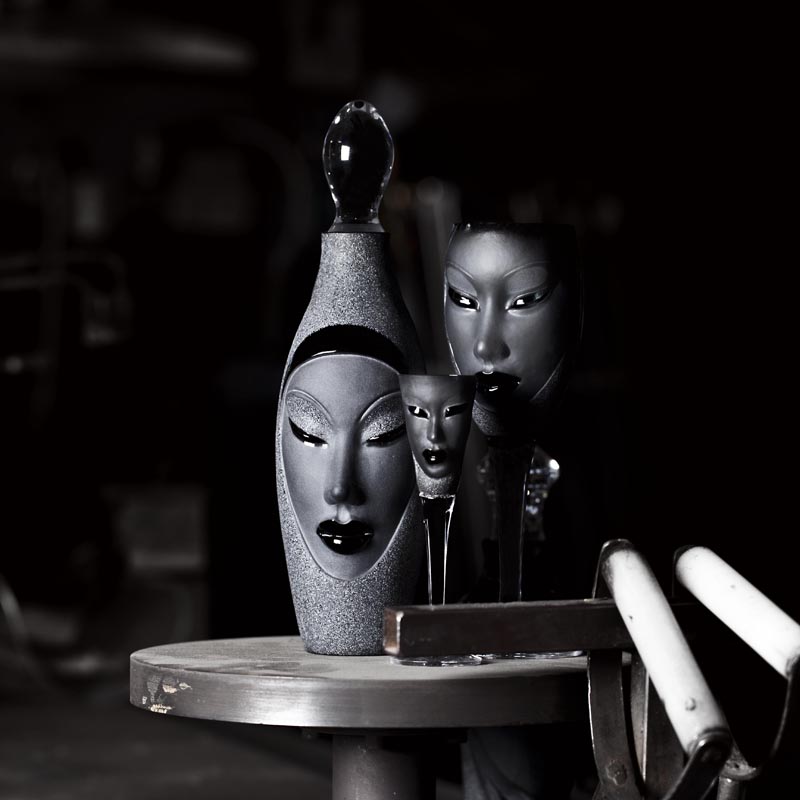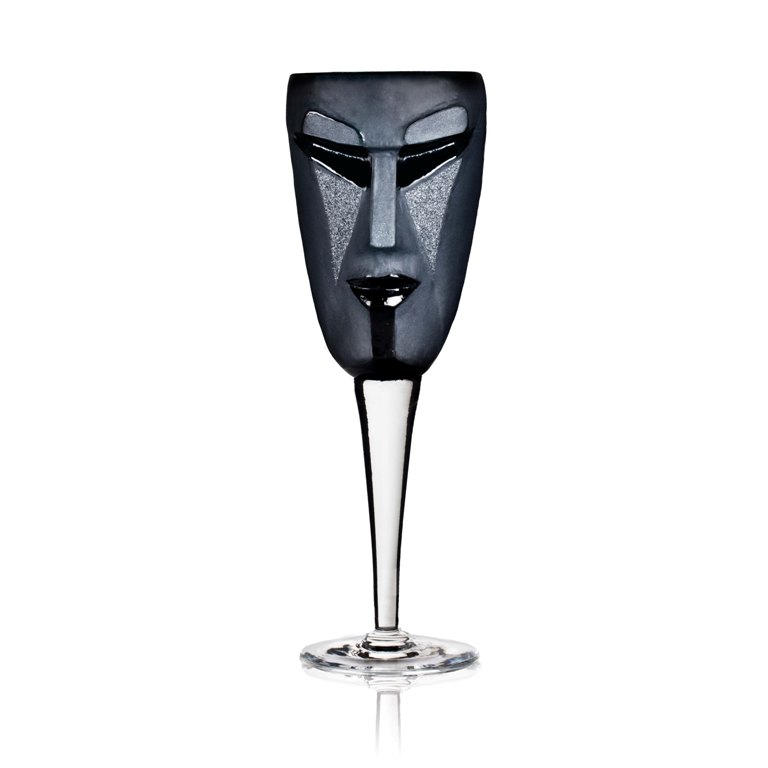 In our catalogue you will find MASQ serie, STRIX - A Taste of Wisdom by Mats Jonasson and INTO THE WOODS serie by Ludvig Löfgren. The drinkware is matched with other tableware objects to guarantee the finest reception and harmony on your table.