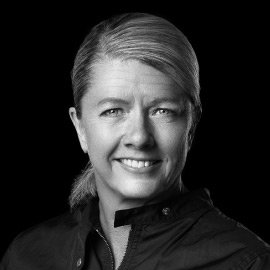 Lena Bergstöm
Lena Bergström (born in Umeå, Sweden, in 1961) has studied design in Japan, Finland, Belgium and England and has a master's degree in textiles from Konstfack in Stockholm. She started working as a designer for Orrefors as early as 1994 and has in parallel continued to develop her role as a textile designer for, among others, Klässbols, Design House and Designer's Eye. Lena Bergström is represented at Nationalmuseum in Stockholm, Röhsska Museum in Gothenburg, Cleveland Museum of Art and Victoria & Albert Museum in London. Her work has been exhibited in a number of galleries and museums all over the world and she has received numerous awards, including about fifteen who have recognized her glass design for Orrefors.
For Orrefors, Lena Bergström has designed the series Carat (awarded the Elle Interiörs Design Award 2010), Squeeze (Excellent Swedish Design 1997) and Puck (Excellent Swedish Design 1999).
We are proud to present design objects from the series Carat by Lena Bergström in our store!